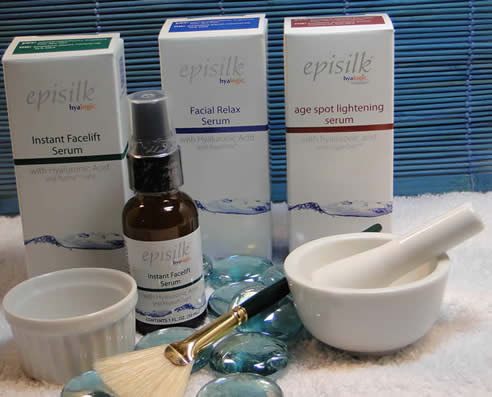 3 Steps to a Smoother Face with Pure Hyaluronic Acid Serum

Did you know that the majority of under makeup primers on the market contain petroleum derivatives such as silicone which stop the natural breathing action of our skin and clog pores? Chemical primers may make your face look smooth, but they are not contributing to long-term healthy skin.

You'll be happy to know that pure hyaluronic acid (HA) serum can be used as an under-makeup primer. The one that we recommend is called PHA Serum, in Hyalogic's Episilk line. Hyalogic uses a high molecular weight vegan form of HA. Its ingredients are simply de-ionized water and sodium hyaluronate (Hyaluronic Acid). You can read more about it and other wonderful HA products for both topical and internal use (for pets too!) on their website, hyalogic.com.
Locally in Raleigh, Nature's Face stocks Episilk serums for our clients' convenience. We currently carry the following HA serums:
Pure Hyaluronic Acid Serum – 59.95 + tx
Instant Facelift Serum – 39.95 + tx
Age Spot Lightening Serum – 39.95+tx
Facial Relax Serum – 39.95+tx

Here is how to apply pure HA serum as a stand-alone treatment at night or under makeup by day:

1. Start with a clean, wet face. If you have just washed your face, leave it wet. If your face is dry you can spritz your clean face with rosewater, mineral mist or plain water. The serum is very concentrated and needs water to activate it and spread it properly. A little goes a long way.

2. Pump a drop of HA serum into your palm and use your fingers to spread it around your face. Remember to use upward and outward strokes, tap lightly under eyes or sweep in toward your nose using your ring finger when applying to the delicate under eye area.

3. Pat lightly around your face with tips of fingers using upward lift and gentle pressure. This will help the serum absorb and give you a circulation boost. The HA "layer" will feel smooth to the touch and make lines and wrinkles less noticeable. Follow with your usual moisture product(s) or sunscreen. At night, if you are using more than one serum, apply HA first.

Get a free sample of Pure Hyaluronic Acid Serum when you purchase products or services totalling $50 or more at Nature's Face in Raleigh. Questions? Call 919-845-4385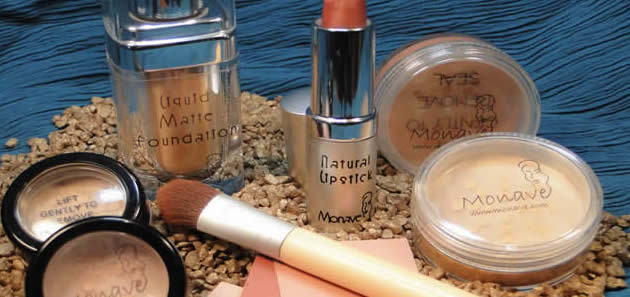 Mineral Makeup
Light up your best features with pure mineral makeup.
If you've never tried mineral makeup, or if you've used minerals that haven't
given you the look you envision, we may have the products and innovations you're looking for!
Two excellent brands of mineral makeup that we stock and use are:
Mineralogie (www.mineralogie.biz) produced in Dallas, TX. Highly-acclaimed for its certified SPF 26 sun protection, flattering creamy texture, long-lasting adherence and wide range of colors.
Monave (www.monave.com) produced in Baltimore, MD. Minimal ingredients especially suited for sensitive and acneic skin, with a unique foundation range that includes hard-to-find skin tone matches for women of color.
Products can be ordered directly from the company websites, but it is best to come see us for a professional color match. And we may have what you need in stock to save you shipping costs. Special orders are available for products we do not currently have on the shelf.
These wonderful mineral lines, gaining a good share of national publicity, have been carefully chosen for their fine quality and for the beautiful results they achieve with natural ingredients. They are comparable to world-famous retail lines such as Jane Iredale, and Bare Escentuals /Bare Minerals, though creatively different in formulation. Complete ingredients listings are available on both the Mineralogie and Monave websites. Both lines have liquid mineral foundations which are excellent, especially for mature skin.
Simply want to purchase some makeup? Call anytime for ordering, or make an appointment to come by Nature's Face studio and make your selection!


"As a holistic Esthetician and mineral makeup artist, my primary purpose is art and education. A makeup session with me is not the typical glorified product-sales routine. I call it a Radiance Makeover because it is the authentic discovery of how to look your healthy, radiant best—in a practical way that fits your lifestyle. With enthusiasm rooted in my experience as a visual presentation artist and certified color analyst, it gives me deep pleasure to see your face come alive with artistic, transformative use of color!"
–Barbara Carr Brossman

Phone: (919) 845-4385 for appointment / information
---